Social Distancing & Mask Detection
Social Distancing & Mask Detection helps your workplace reopen safely
Automated Social Distancing Detection helps your workplace reopen safely. Reduce COVID-19 risks by turning your security camera into a social distancing camera.
Reduce COVID-19 risks by turning your security camera into a social distancing camera
Protecting your employees, customers, and organization is hard in the age of coronavirus, especially when liability can be high. Social distancing is proven to reduce transmission but is difficult to track and enforce.
But Camio can help! 250M security cameras are Camio-Ready today. Turn them into social distancing and mask detectors in less than an hour.
✅ No new hardware
✅ No long-term commitment
✅ 100% software solution
Camio automatically detects hotspots so you know where to implement better social distancing tools, like orange cones and 6-ft tape markers.
When Camio detects a social distancing problem, it alerts and reports the incident to identify frequent hotspots in your workplace.
After you implement social distancing fixes for the hotspots, Camio measures and confirms best practices in social distancing.
Preserve business continuity while keeping people safe
Increase employee and customer confidence in coming to your workplace
Reduce liability and risk of litigation by maintaining auditable CDC compliance records
Smart alerting and reporting with your existing camera
Camio checks your existing workplace cameras feed for hotspots many times a day, so it can determine which areas need a social distancing fix.
✔️3 or 6-foot social distancing detection and mask detection included
✔️ Real-time alerts and customizable dashboards via email
✔️ Privacy-friendly — no PII used or stored
✔️ Safer than thermal cams — fever-free people can be contagious
Camio summarizes the Social Distancing hotspots by hour.
Dashboards are delivered to your inbox with links to view problem areas.
How it works
Camio uses AI and machine learning to turn output from your 2D cameras into insights about social distancing in 3D. It anonymously tracks people as they move on a virtual 3D floor-plane grid — movement is analyzed without storing any personally identifiable information.
Your camera output is sent to Camio in the cloud, where it performs the analysis and sends back real-time alerts and customizable dashboards. Most companies can run this entirely on their existing hardware with less than an hour of setup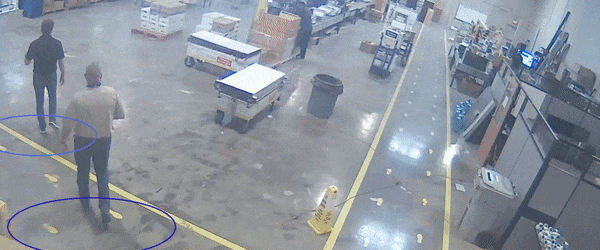 Camio detects when people are closer than 6 feet.
Even when people are 6-feet apart, Camio automatically detects whether they're wearing masks.
Real-time dashboards track both mask and social distancing policy effectiveness.
LET'S TALK MORE ABOUT CAMIO
We will discuss your challenges and see how it matches to this and other solutions, to find the right fit.